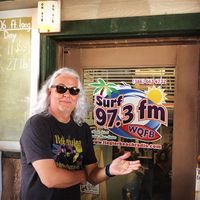 I hope you'll tune in to my weekly episode of "making noise with Mark Dawson". It's all about music and stories...and maybe even some stories about music. Pretty much whatever comes to mind! You get "Mister Noise Unplugged™" (an exclusive acoustic performance by your host), a 4-song Beatles BLOCK, The "Worst" Song Ever Recorded™, and, of course you'll always hear The Sexy Song of the Night (brought to you by LayZEE Pants). You might even get treated to a little iPhone Fun With Siri™. And sometimes, a special guest drops by to chat. It's all on Our Generation Radio Thursdays at 9pm eastern - and rebroadcast on Saturday at 6pm on HOFMradio.com. Also on Surf 97.3 FM (from Flagler Beach, FL) Sundays at 8pm eastern - Radio - the way it used to be!

 It's easy to tune in. Just click on the "Listen Live" links (over there...on the right) to hear the broadcast you want! 
You can also listen to the show anywhere in the world on your mobile device by downloading the very cool "TuneIn" app.
And be sure follow the show on Facebook. 
Here's all you need To know...
If you missed the "live" broadcast, no worries, you can tune in anytime you want. Stream the archived versions of "making noise with Mark Dawson" right here on this page. Just locate the date of the show (all listed below) you want to hear, click and enjoy! (shows not listed are available only by email request )

Come join the fun. Thanks!
Mark
"making noise" Acoustic Songs 
0:00/3:10

0:00/3:12

0:00/3:23

0:00/2:22

0:00/3:34

0:00/3:04

0:00/3:37

0:00/3:51

0:00/3:48

0:00/3:25

0:00/3:21

0:00/3:41

0:00/2:44

0:00/3:18

0:00/3:15

0:00/2:24

0:00/3:09

0:00/3:12

0:00/3:51

0:00/3:33